Minister of works and Housing, Babatunde Fashola (SAN) has said Loko-Oweto Bridge will reduce travel time to Abuja by four hours while with the Second Niger Bridge it will take a few minutes, instead of hours to cross the River Niger, a crossing of approximately 1.5 kilometres.
Fashola stated this yesterday in his remarks at the virtual commissioning of the three bridges, three secretariats and one road by President Muhammadu Buhari
The special adviser communications to the minister, Hakeem Bello, in a statement he issued, said the Federal Government of Nigeria, working with the state governors, senators and House of Representative members, traditional rulers and other Nigerians, unveiled three major bridges the Loko-Oweto, Second Niger and Ikom bridges, a completed section of over 200 kilometres of the Kano-Kaduna Highway and three new federal secretariats.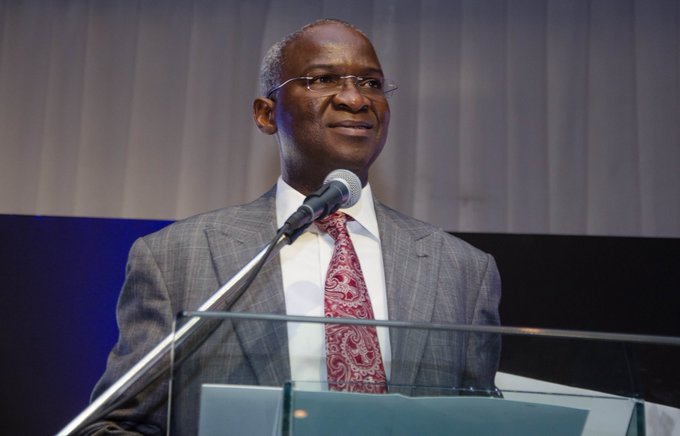 READ ALSO:Gov Yahaya Bello Reappoints APC guber Aspirants Who Resigned From Service
He said, "Today, Mr. President will connect Benue to Nasarawa on the Loko – Oweto Bridge, Cross River to Benue on Ikom Bridge and Anambra to Delta on the Second Niger Bridge, and literally connect many parts of Nigeria to themselves.
"In the same vein, we link Kano to Kaduna on the Kaduna-Kano highway and impact Zamfara, Bayelsa and Anambra directly through the Secretariats. This is a story of development and a story of people, all of which cannot be fully told here.
"But I will try; starting from the president and the commander-in-chief whose leadership, support and opportunity afforded us to serve has made all these possible. The story of the cabinet members from the vice president and my colleague ministers whose support for the various memoranda in Council made these projects possible. Some of those memoranda you spent hours to debate and approve have yielded some fruit.
"Our legislators in both chambers of parliament were part of the story. They appropriated, they approved where necessary and oversight all through the project; but they never obstructed. The state governors, their commissioners and their traditional rulers are a story that must be told, about how federal, state government and traditional Institutions can, and must work together to deliver development and prosperity," he said.